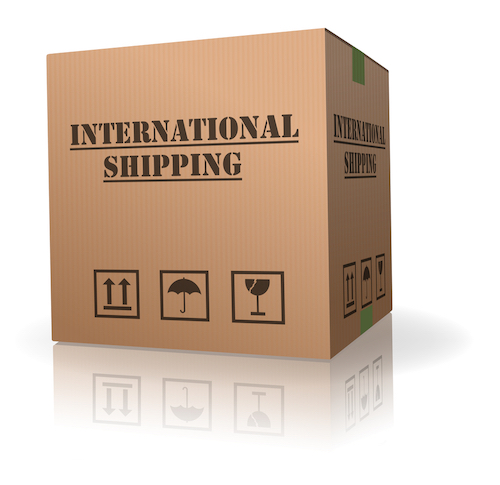 Running a mail-order business gives me many opportunities to think about the cost of shipping. I've just made a change to the BMOW store that enables small, lightweight packages sent within the USA to be shipped by USPS First Class Mail rather than Priority Mail, cutting the shipping cost in half. Woohoo! But that's about all the help I'm going to get from the US Postal Service, and I'm slowly realizing that USPS has some of the least competitive postage rates in the world.
A typical BMOW package weighs about 10 ounces, or 283 grams. To mail that package to the UK, Australia, Germany, or other countries where customers may live costs me $22.75 in postage via "First-Class Package International Service", which is the cheapest option available. That's a significant amount of money. If my store sells a 10 ounce item that costs about $20, it's unlikely anyone outside the USA will be buying it, unless they relish paying more for postage than for the item itself.
I decided to compare the cost of international shipping for a comparable 10 ounce / 283 gram package, sent from a few other major countries:
County
Cost for shipping 283g
International Package
Cost in US Dollars
USA
USD $22.75
$22.75
Canada
CAD $19.39
$14.90
UK
£14.90
$21.20
Australia
AUD $14.10
$10.83
Germany
€3.70
$4.22
The US has the most expensive international postage rates of any of these countries. (But at least this gave me a chance to learn how to type £ and € on a US keyboard, where those symbols don't appear.)
The real anomaly in international shipping is China. Sending a package from the USA to China costs me the same as to any other country. But sending a package from China to the USA appears to be nearly free. Take one look at any of the many "free shipping" deals available from Chinese sellers on Aliexpress, eBay, or similar sites, and you'll wonder if reality has been suspended. And it's not that they're absorbing the cost of shipping into the item price. Take this LED voltage meter for example: it costs $0.78, is available in single quantities, and ships free to the USA. Granted the delivery time stinks (up to 40 days), but at that price few people are complaining. How are postage prices like that possible? I can't even ship within the USA for that price, let alone internationally.
I'm always looking for the most economical way to get BMOW packages to customers. I only wish USPS could be more help!
Read 17 comments and join the conversation